TRIPOINT BORDER IN BOLCIE - POLISH COLD POLE
In the village Bolcie near Wiżajny, not far from the road no. 651 (Wizajny - Zytkiejmy), there is a point with borders of three countries: Polish, Lithuania and Russia (Kaliningrad Region). This point is marked with a granite pillar with state emblems of three neighbouring countries and in each country's language. It is called "Wisztyniec".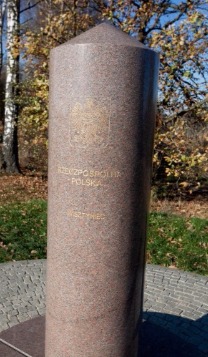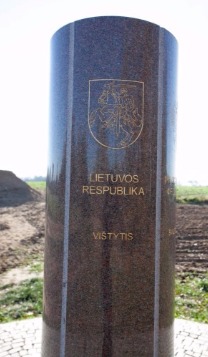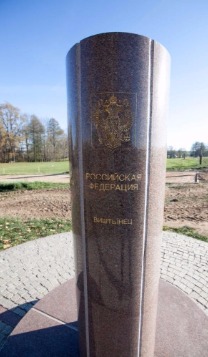 To reach the tripoint, we invite you for a short walk along the cognitive path titled "Tripoint borders - cold pole" - about 450 m from the district car park. You can also get there by bike. Along the way, you will learn many interesting facts from the information boards, about the history of this place and the natural qualities of the environment. The board closest to the tripoint presents principles how to move in the border area. You have to remember that Russia doesn't belong to the Schengen area...
The area, with "Wisztyniec" tripoint (e.g. municipality Wiżajny) is considered the Polish Cold Pole. LED display installed in the district car park shows the current temperature of this place - you can read it on-line.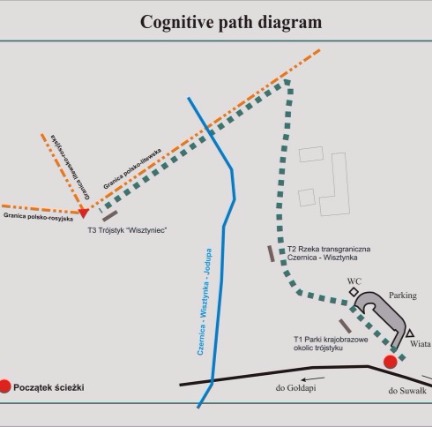 District parking in Bolcie is suitable for cars (10 places) and coaches (1-2 places). It is equipped with a seasonal toilet (1zl coin), the original triangular rain protection, information boards, benches, bike racks, litter bins. Car park and toilet facilities are adapted for disabled people.
Car park building with equipment, on-line connection and subsites dedicated to tripoint "Wisztyniec" as well as foot-cycle path building after the former Polish-Lithuanian border in Bolcie were completed in 2014 as part of the project "Modernization of active public space for active neighbours - phase II ". It was co-financed by the European Regional Development Fund and implemented under objective 3: European Territorial Cooperation Cross Border Cooperation Programme "Lithuania-Poland" 2007-2013. District Suwalki (Leading Partner) completed this project in partnership with the Municipality Wiżajny, Lithuanian region of a Wylkowyszki (Vilkaviskis) and the Tourist Information Centre in Szaki Szeszupa Euroregion (Sakiai).